Introduction
AnalystQ is a next-generation trading platform, which is easy to use, responsive, and designed to attract all kinds of traders. The broker allows the traders to conduct trading in different markets of cryptocurrencies, commodities, and forex. AnalystQ is one of the leading trading platforms in the world. Read the AnalystQ review to know the plethora of features of the broker.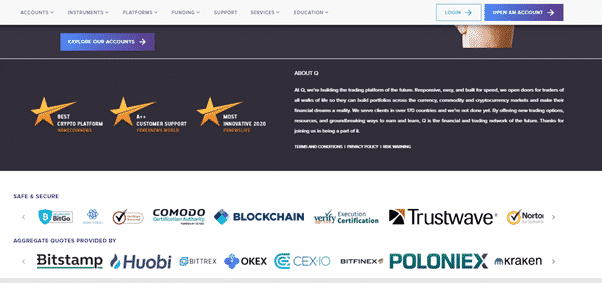 AnalystQ Reviews – Secure Trading
Trading Accounts:
The platform is for all kinds of traders and investors. It is one of the best trading platforms in the market for beginners. It allows trading in more than 1600 assets with a minimum deposit of $500. The broker offers three account types, which are given below:
1) Primary Accounts – There are three tiers in primary accounts of AnalystQ, which are as follows:
a. Standard account – It offers numerous trading assets and provides smart tips on trading along with periodical updates.
b. Education account – The account type offers all the standard account features along with a few more. A beginner can fill-up the form to open an education account to get access to MetaTrader5 platform. The account type offers different educational materials, including academic content, webinars, and study material.
c. Speciality Account – This type of account is best suited for the active trader as it provides its clients with the 24×7 live support along with many tradable assets.
2) Professional Accounts – A professional account offers a wide range of intuitive tools, personalized training, trading opportunities, and many more. There are two basic types of professional accounts which are as follows:
a. The MarginQ account – This type of account offers access to the MetaTrader5 platform and provide 24×7 telephonic support from the team members. The academic content provided by the account is best for formulating the trading strategies.
b. The platinum account- It offers many additional perks like profitable spreads and invitation to VIP events to the traders.
3) AutomatiQ Accounts – A trader can start trading by automated trading strategies using AutomatiQ account.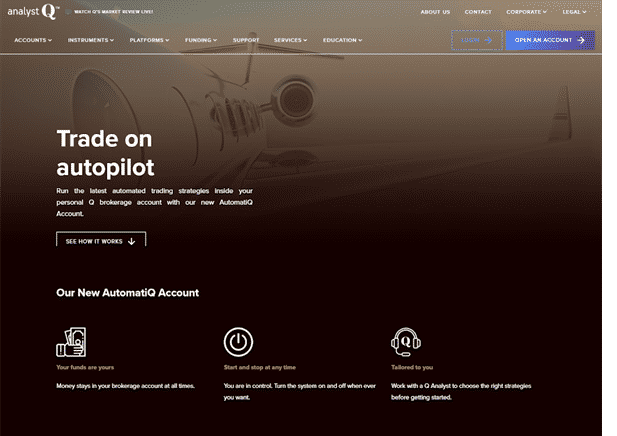 AnalystQ Reviews – AutomatiQ Account
Instruments that can be traded on AnalystQ:
1) Cryptocurrencies – Cryptocurrencies are the latest investment asset that offers supportive and secure features. AnalystQ provides tools and features that offer great trading opportunities and important insights to the traders. AnalystQ trading platform.
2) Currency Options – AnalystQ allows traders to trade in the currency market by offering a variety of trading tools. Many traders have made money by investing in a variety of currency options. AnalystQ offers tight spreads and also allows the traders to select from multiple currency options. It offers 24/7 customer support to the traders, and the platform can be accessed by any device, including PC, Tablet, Android, etc. Among various currency options offered by the broker are: ETH/USDT, BTC/USDT, ETH/EUR, ETH/CHF, BTC/ETH, etc.
3) Energy Commodities – AnalystQ is an easy-to-use platform that offers various trading options that help traders make the right investment decisions. The education resources offered by AnalystQ enables the traders to trade conveniently. Trading in energy commodities includes investing in renewables and non-renewable sources like wind, solar, geothermal, coal, oil, etc.
4) Precious Metals – Investing in precious metals is one of the best ways to earn a profit. Precious metals like gold, platinum, silver, palladium always bring profit. Trading in them is a wise move for all kinds of investors. The metals offered by AnalystQ are:
a. Silver
b. Gold
c. Platinum
d. Palladium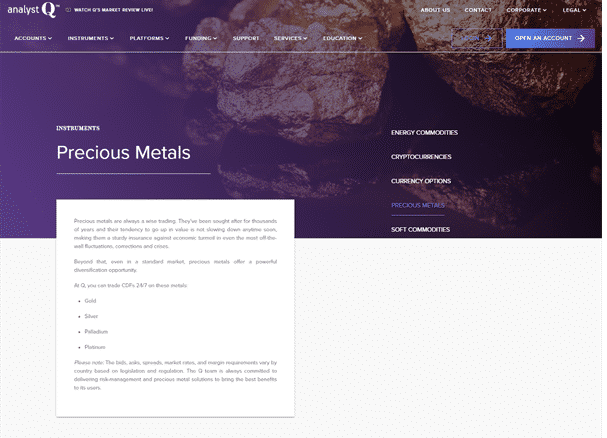 AnalystQ Reviews – Precious Metals
5) Soft Commodities – There are few soft commodities investing in which is a great idea. The soft commodities offered by AnalystQ are coffee, sugar, cotton, cocoa, soybeans etc. that have long-lasting demands and bring huge profit when they are traded smartly.
Education:
The education services offered by AnalystQ are amazing, with the help of which a trader can understand the basics of trading and investment in the market. The educational services are available in the form of online trading courses, personal trading courses, and educational trading courses.
1) Educational Courses – The educational courses offered by AnalystQ provide a rich experience of trading. Both beginners and seasoned traders can benefit from education courses offered by AnalystQ.
2) Online Trading Courses – AnalystQ is one such broker, which offers trading information quickly to its traders through its online trading courses. A trader can learn trading easily through these courses of AnalystQ.
3) Personal Trading Coaches – AnalystQ offers personal trading courses where traders can learn from q-certified coaches having a good experience, which will help the traders to boost their knowledge and make good trading decisions.
Platforms that are compatible with AnalystQ:
1) Android Trading app Platform – AnalystQ Android Trading app platform is ideal for the traders who want to trade on the go. With the help of the app, they can monitor the real-time market conditions and get notifications that help them make the right investment decisions. The user-friendly interface of the AnalystQ app is such that any trader can easily trade through it.
2) iPhone Trading App Platform – AnalystQ iPhone trading app allows the traders to trade conveniently so that they can trade easily from any of their Apple devices. A trader needs to download and install the AnalystQ app on his Apple device to benefit from the convenient trading. The app enables the traders to execute the trades easily in commodities, cryptocurrencies, forex, etc.
3) MetaTrader 5 platform – MetaTrader 5 of AnalystQ is one of the best trading platforms available for trading, which offers an in-depth analysis of which a trader can take full advantage. MetaTrader 5 can be accessed from any device, and it also comes with free and paid features. The real-time indicators and the expert analysis of MetaTrader 5 of AnalystQ are of great importance.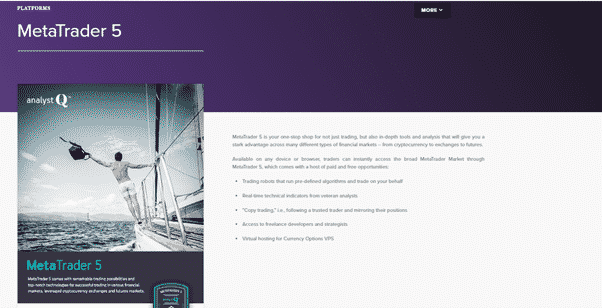 AnalystQ Reviews – MetaTrader 5 platform
4) Tablet Trading App Platform – If you are a trader who likes to trade using a tablet, then the tablet trading app platform is best for you, which offers important functions and features to you. With the tablet trading app of AnalystQ, you can get direct access to the market and view the real-time prices. Traders can get live prices and the recent updates of the market condition so that they can make informed decisions regarding their investments.
5) Web Trader Platform – Web trader is one of the best trading platforms that AnalystQ offers. It has a user-friendly interface which makes it easy to use. Web trader of AnalystQ can access from any device and operating system. Once the user signs up, he can easily access all the features offered by the AnalystQ trading platform.
Crypto Funding Basics:
If the trader doesn't have sufficient funds in their bank account to trade, he can benefit from the loans offered by AnalystQ. AnalystQ offers loans at a reasonable price so that a trader can start trading with ease.
The firm AnalystQ offers leveraged crypto funding to its trading, which comes with the opportunities to improve the traders' position.
Margin and leveraged Loans – AnalystQ offers margin and leveraged loans to its users so that they can trade in commodities, cryptocurrencies, and the forex market.
Services that AnalystQ offers:
Dedicated Sales Trader – Dedicated sales trader of AnalystQ helps the traders with crypto-funding and market volatility so that a trader can conduct his business with efficiency.
In-House Analyst – In-house analyst helps in gaining special insight into the market so that a trader can predict the market trends by analyzing the patterns in the market. It also helps in avoiding the trading traps that are dangerous for the traders.
Personal Relationship Managers – Personal relationship managers of AnalystQ help traders assess the trends in the market and make them copy their trading strategies to make some good profits.
Personal Trading Courses – The personal trading course of AnalystQ is well created by experts where a beginner can learn about trading and investment strategies from experienced and knowledgeable mentors.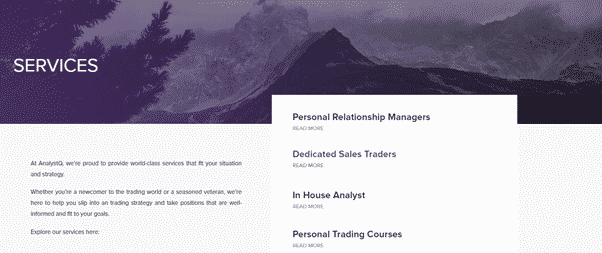 AnalystQ Reviews – Services
Support:
Email Support – A trader can reach the customer support of AnalystQ through email. The customer support team of the firm is professional and qualified in dealing with the problems.
Whatsapp Support – AnalystQ also offers its customer support services securely through WhatsApp so that a trader can take the maximum benefit from it.
Telegram Support – Telegram is a cloud-based app, which offers privacy and security. A trader can also upload the KYC document through telegram.
Phone Support – AnalystQ offers phone support to its traders so that they can easily reach the support team any time of the day.
Conclusion
Offering over 1,600 tradable assets, AnalystQ is one of the best online trading brokers allowing trading in cryptocurrencies, commodities, precious metals, etc. It provides MetaTrader 5 trading platforms to its customers, which is one of the most advanced trading software offering a wide range of tools, indicators, and trading robots to make the trading easy and convenient for the traders. With so many good things to offer, there is no reason why you should not start trading on AnalystQ. The AnalystQ review showcases all the benefits that the platform offers to its traders to simplify trading and make the investment more profitable for them.
FAQs
1. What are Trading Accounts Offered By AnalystQ?
Ans. AnalystQ offers 3 types of accounts for its users, namely, the Primary Accounts (Standard Account, Education Account, and Specialty Account), the Professional Accounts (MarginQ Account and Platinum Account), and the AutomatiQ Account.
2. Is the Customer Support of AnalystQ Quick?
Ans. Yes, AnalystQ has quick and responsive customer support available via email, phone, WhatsApp, and Telegram 24/7.
3. How Can I Learn Trading with AnalystQ?
Ans. AnalystQ offers various educational courses and online trading courses that you can take up at your own pace to learn to trade.